State-of-the-Art Luxury Vinyl Flooring in St. George, UT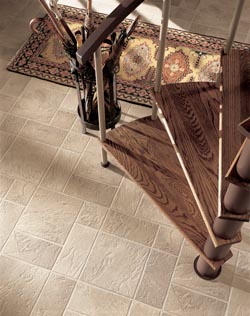 One of the most sophisticated flooring options currently available, luxury vinyl flooring in St. George, UT, allows you to create the precise look you want for any room in your home. Vinyl flooring used to be known as the very durable, but not so attractive, option you wanted for highly trafficked areas. But things have changed considerably since then.
Now, luxury vinyl tile and plank flooring can deliver the look of a wood, stone, or ceramic floor in addition to delivering the durability you've come to expect from vinyl. Let the professionals at Brent's Interiors introduce you to this brand-new take on vinyl flooring so you can find out why so many homeowners are choosing it over some of the most beloved classics.


Resilience Combined with Aesthetics
For decades, homeowners felt like they had to make a choice between the look they wanted and the durability they needed when it came to choosing flooring. But those days are gone. Now, you can get both the precise look you want along with the strength you need thanks to luxury vinyl plank flooring.
Available in a wide range of patterns and styles, this flooring option is capable of perfectly mimicking the appearance of natural materials, such as wood or stone with embossed or textured surfaces. Not only that, but they are also much less expensive than their natural material counterparts, which can be difficult to source.
Along with being aesthetically appealing, luxury vinyl plank and tile are incredibly functional. These products are built tough and can deliver the resistance to wear and tear you would expect from a vinyl floor. Even better, maintenance is simple on these floors, which means it isn't hard to keep everything looking great for a long time to come.


Luxury Vinyl Tile Installation Specialists
Working with an amateur to install your brand-new luxury vinyl tile can end up causing you a lot of problems in the future. Simple mistakes have a ripple effect that can dramatically reduce the functionality and lifespan of your new floor, which ends up costing you a lot of money on repairs, maintenance, and replacements.
Save money and frustration by getting a professional luxury vinyl tile installation performed by our team of specialists. We have the tools and training necessary to install your new floor the right way the first time. This cuts down on the number of repairs you will need in the future while also extending the lifespan of your new floor.



Contact us when you are interested in the versatility of luxury vinyl flooring. Our flooring store is proud to provide LVT to customers located throughout the St. George, Utah, area.