Luxury Vinyl Flooring in St. George, UT
Finding Luxury Vinyl to Fit Your Lifestyle
Are you looking to renovate your new floors with a durable yet elegant flooring option? Check out our extensive collection of luxury vinyl flooring designs here at Brent's Interiors in St. George, UT. Our state-of-the-art luxury vinyl floors boast real wood and stone looks at a fraction of the cost.

You can make your home design pop while maintaining a practical household for your busy lifestyle with our selection of luxury vinyl flooring options. Whether you're looking for a barnyard chic wide plank or a traditional red maple to spruce up your living room, our flooring experts have your back.
Stop by our expansive showroom today and consult with one of our flooring specialists to find the perfect luxury vinyl floors for your active home. We proudly serve St. George, Mesquite, and Washington County areas.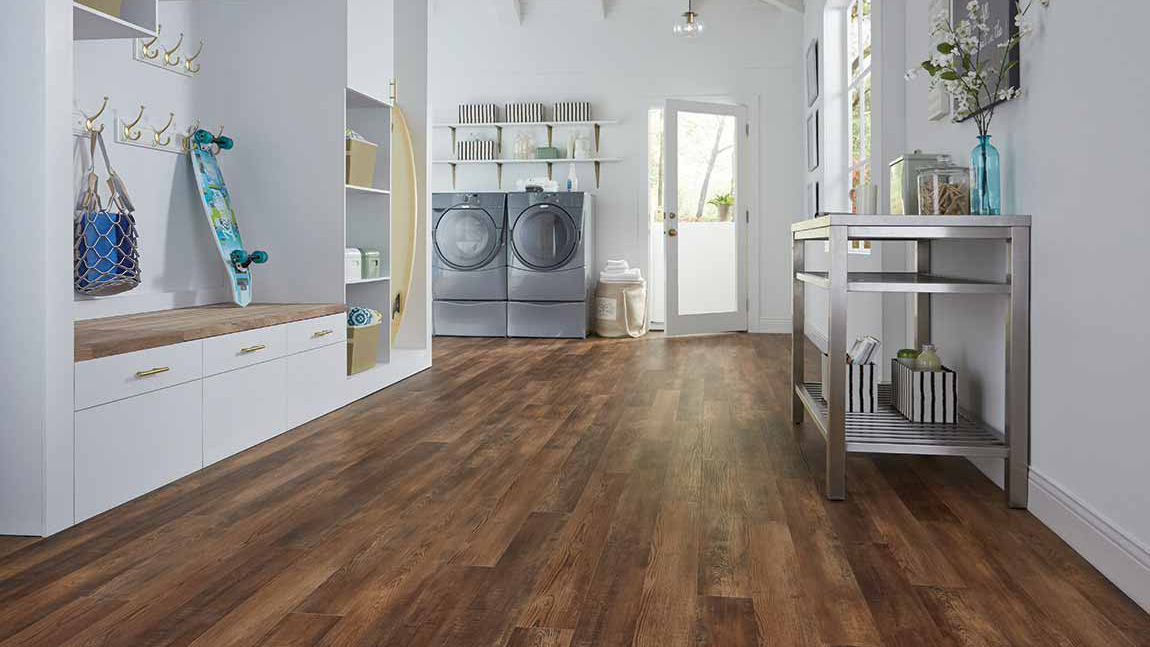 Different Types of Vinyl Explained
All vinyl flooring contains the same four layers of plastic; however, luxury vinyl flooring is designed to be thicker, making it a more durable option for your home. With vinyl plank flooring, the core layer is composed of thick layers of PVC, and you might remember traditional vinyl floors coming in sheets. Nowadays, though, luxury vinyl is designed in tiles and planks that look identical to their natural hardwood and ceramic stone tile counterparts.
Benefits of Luxury Vinyl Flooring
All of our luxury vinyl flooring collections are 100% waterproof, meaning that they can be efficiently installed even in the moisture-prone areas of your house, like the basement, bathroom, and kitchen. One of the most significant advantages to having a luxury vinyl floor is the low-maintenance required to keep your floors looking shiny and new. Vinyl flooring only needs to be frequently swept, vacuumed, and dusted. The scratch-resistant, stain-resistant, and dent-resistant features of your new luxury vinyl floors will slim down the hassle of upkeep.

Where Can I Install Luxury Vinyl?
Thanks to recent technology updates, all of our luxury vinyl floors here at Brent's Interiors can be installed over any subfloor. With a simple click and lock system, luxury vinyl floors can be installed in no time.

Save money and time with our team of expert installers. While a simple mistake from an inexperienced installer can lead to years of damage down the road, our installers are guaranteed to meet your satisfaction. They will even supplement your floors for free if a flaw in craftmanship should occur. They come prepared with the correct tools and resources to make installing your brand new luxury vinyl floors a piece of cake.

Contact us today at Brent's Interiors to find your beautiful new floors and schedule an consultation with our experts.