Waterproof Flooring in St. George, UT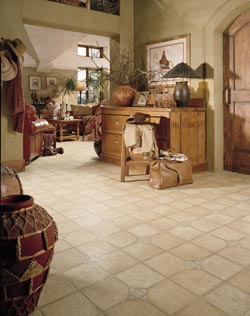 Bathrooms, kitchens, mudrooms, are all locations that can see their fair share of water and moisture. If you have children or pets, other areas of your home can also quickly find themselves in the path of spills, splashes, and drips. Protect your home from the threat of water by investing in waterproof flooring in St. George, UT, from Brent's Interiors.
Our flooring store understands the need of homeowners to have flooring options that are built tough enough to withstand their day-to-day lives. That is why we are proud to stock a wide selection of waterproof and water-resistant flooring for you to choose from. These flooring options are resistant to spills and stains while remaining very easy to clean. Some of the different types of waterproof and water-resistant flooring options we carry include:
Carpet Flooring
Vinyl Flooring
Laminate Flooring
Hardwood Flooring


Perfect for Any Room in Your Home
No matter what type of waterproof flooring you are looking to purchase, you are going to love the feeling of not having to worry about the potential damage simple splashes can end up causing. This is a type of floor that is built to be tough against much of the wear and tear that can shorten the lifespan of other flooring styles, making it the perfect option for any room in your home.
If you are interested in seeing just how impressive our waterproof and water-resistant flooring options are, then we encourage you to come to our showroom to talk with one of our friendly and knowledgeable specialists. We will gladly discuss any of our flooring options with you to show you why waterproof flooring works so well in:
Kitchens
Bathrooms
Laundry Rooms
Entryways
Mud Rooms


Professional Waterproof Flooring Installation
One of the aspects that make waterproof flooring waterproof is how it is installed. That means if it isn't installed correctly, you are going to notice that your floor isn't nearly as resistant to moisture as it should be.
Don't end up wasting money on an amazing new waterproof floor only to lose all of the benefits that come with it on an amateur installation. Instead, work with our team of trained professionals to ensure everything is installed the right way the very first time. We make sure that your new floor has the tight, resistant barrier it needs to ward off water and the damage it can cause.

Contact us when you are looking for the added protection that comes with waterproof flooring. We have impressive waterproof options for clients located throughout the St. George, Utah, area.